Major Brad Schutz
---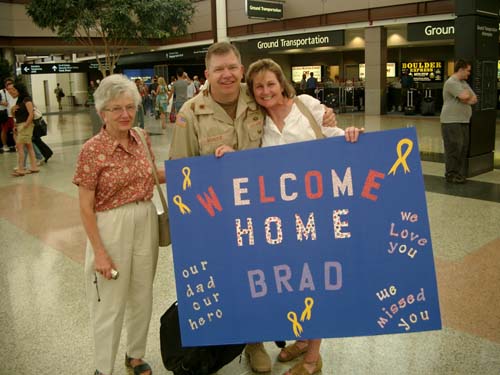 Major Brad Schutz, wife Cheryl Lyn Maahs Schutz, and mother.
Photo taken on return from first tour of duty, 2005.
About Brad Schutz: Hello. My name is Bradley Carl Schutz, and I am related to the Jipp/Gottsch family through my wife, Cherie Lyn (Maahs) Schutz, who is a fourth cousin to Bill Gottsch. I am pleased to be connected to such an interesting family, and hope that I can add some interest with my own background. I will do the best I can to give you a quick history of myself, then tell you what I know about my family background, which is also German in origin. I am an officer in the Army. My basic occupation is Infantry, but I have also worked as a Cavalry Officer and as a Transportation Officer - my current classification. I am writing this from Logistic Supply Area 'Adder' near the town of Al Nasariyah, Iraq. This is my second deployment to Iraq.
Before the Army: I am the youngest of two siblings, and the only son. I was born in March of 1962 in Tacoma Washington, at the Fort Lewis Hospital to my mother Elizabeth Francis and my father Ronald Carl Schutz. My father was in the military at the time, stationed at Fort Lewis as a helicopter pilot for the Army Corps of Engineers. My father rotated through Korea while I was too young to remember, and my mother, sister (Debbie) and I spent 13 months with my mother's parents in CO. Following his four years in the military, my father began working as a supervisor for Kaiser Aluminum in Spokane WA, and we moved to Ghana, West Africa when I was about six years old. When I was eleven, we moved to Bahrain and lived there for about a year, moving from Bahrain to West Virginia. My father left Kaiser six months after the move to WV, and we moved to WI, where my father worked at a small brass casting company. We were in WI for about two years (my seventh and eighth grade), before my father began working for Kaiser Aluminum again. We moved to the island of Sardinia, Italy, and lived there for about two years. I was of high school age and since there were no English speaking schools on Sardinia, I went to a boarding school in Leysin, Switzerland. Following Italy, we moved to Walnut Creek, CA and then Federal Way, WA, where I graduated high school. I attended Washington State University, where I majored in General Sciences and enrolled in ROTC.
Married Life: The most important thing that happened at WSU was that I met Cherie, who was majoring in criminal justice. To this day I maintain that I have been a criminal justice test case for her. We started as friends and became best friends as we navigated our way through early adulthood. We both graduated from WSU, having been engaged for almost four years. I was the last to graduate in December of 1984. Cherie had not come to her senses yet, and still claimed me as a soul mate. We were married on 5 January, 1985, in a small Lutheran Church in Puyallup, Washington. Cherie bore me two sons, Ryan Carl Schutz in Mar 1986, and Curtis Trevor Schutz in Oct 1987. Both sons are currently in Colorado, working and going to college. Cherie has stuck with me through thick and thin. January will be 23 years of marriage for us, and 27 years that I have known her. Come to think of it, I have been with her longer than I have been without her. I guess you would call that a 'trend'. We currently live on post at Fort Eustis, VA, with two cats and Buffy, our white Labrador retriever. Cherie works nearby at a Williamsburg hospital, and we are both counting the days until this current deployment is over.
I attended ROTC at WSU, and went to Airborne School as a cadet. I was commissioned as a 2nd Lieutenant of Infantry in Dec of 1984, starting active duty in Feb of 1985. My early duty stations include Fort Benning, GA (twice), Fort Lewis, WA (twice), Schofield Barracks, HI, and Fort Polk, LA. I attended a variety of Army training, including Ranger School, Air Assault School, Jungle Warfare, and Battlefield Deception as well as the basic and advanced Infantry training schools. I served as a Light Infantry Rifle Platoon Leader (PL), Mortar PL, Company Executive Officer (XO), Plans and Operations Officer, Personnel Officer, Company Commander (four times). My commands include A Company, 3rd Battalion, 199th Separate Infantry Brigade, K Troop and Headquarters Troop, 3rd Squadron, 2nd Armored Cavalry Regiment, and C Company, 1st Battalion, 2nd Regional Training Brigade. My major deployments include Thailand (four times), Japan, Korea (twice), and the Philippines.
Civilian Work (soldier interrupted): I have a seven year break in service, from 1996 to 2003, although I maintained an inactive reserve status. During that time I worked as a supervisor at IBP (a meat packing plant) in Council Bluffs, IA, a production supervisor, warehouse manager, and product line manager for Vickers Hydraulics in Omaha, NE, a plant manager at BOTEC (agricultural equipment production) in Greeley, CO, and as a production supervisor, distribution warehouse supervisor, and product line manager at Celestica (a high tech electronics manufacturer) in Fort Collins and Denver, CO.
Military Service, continued… I was mobilized for Operation Iraqi Freedom in 2003, serving at Fort Carson, CO as a Plans and Operations Officer. I opted to return to active duty full time, and was assigned to the Transportation Corps for my sins. I was sent to Iraq to work with the State Department on getting the Iraqi train system repaired and moving, and was stationed at Fort Eustis, VA upon my return. I am currently serving as a Battalion XO and I deployed with the Battalion to Iraq a second time.
Education: BS from WSU, 1984, Infantry Officer Advance Course 1990, Combined Arms Service and Staff School 1993, MBA from Regis University, 2003, Combined General Staff School, 2005
---
About the Schutz Family: The Schutz family hails from Germany, as you might expect. I quit trying to convince people that the name was actually Dutch-Hebrew-Aramaic in originJ. My mother's maiden name was Cheeseman, which is English in origin. As I am sitting out in the desert as I write this, I cannot give you a very accurate picture of my heritage, but will do the best I can.
My Mom's side: My mothers mother, Ethel Cheeseman, crossed the plains in a covered wagon about 1912 (when she was about six years old), traveling from OK (her dad was a 'Sooner') to CO. There were cars and trains about at the time, but those methods of travel were for families with lots of money. The Cheeseman family settled in the Ute Pass region, near Colorado Springs, in a mountain town called Chepeta Park, later relocating to Leadville CO and later to Green Mountain Falls, CO. My grandmother worked at the phone company (Mountain Bell) for many years, and recently passed away in 2005 (while I was in Iraq). My mom grew up in CO and met my father in high school in Buena Vista, CO. My mother and father were married in the Church of the Wildwood in Green Mountain Falls, CO. I have fond early memories of playing around my grandmother's house while on vacation in Green Mountain Falls, and hiking up to see the falls.
My Dads side: The Schutz family emigrated from Germany with my great-great grandfather. Actually, they emigrated from Odessa, Russia. Russia had offered land grants to certain skilled German Citizens, but the political climate made escape from Odessa Russia an attractive alternative. My great grandfather was a painter and carpenter in Denver CO, and the family owned and worked a ranch in Elbert CO. My Grandfather was Captain of the State Reformatory in Buena Vista CO, where my father grew up, meeting my mother at the Buena Vista high school. My father attended the Colorado School of Mines in Golden CO. Dad was in the Army for four years, flying helicopters for the Army Corps of Engineers, and then began working for Kaiser Aluminum. Other than a two-year stretch, he worked for and retired from Kaiser Aluminum. Mom and Dad currently live in Colorado Springs, Colorado, where they are surrounded by family and can ski and bike in the high, clear mountain air.
My sister: Debbie (18 months older than I) attended the University of California at Berkley, graduating with a degree as an architect. She married a carpenter (Greg Hogg) in PA, where she currently lives and works. She, like Cherie, went back to school for nursing, and is a Registered Nurse. She has three children, two boys (John and Carl) and a young daughter (Carolyn).
If you would like to send a letter or card to Brad his APO is:
MAJ Brad Schutz
HHC, 7SB
LSA Adder, Iraq
APO AE 09331