First Generation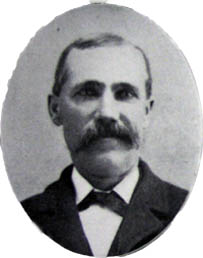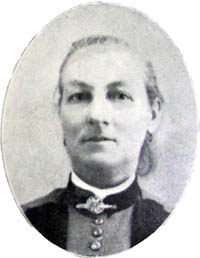 Nicholas and Henrietta Malcer Wallstrom Dornacker
1. Nicholas1 Dornacker was born in Alsace, Lorraine, France, April 25, 1842. Nicholas died March 27, 1901 in Richland Township, Washington Co., Nebraska, at 58 years of age. His body was interred March 29, 1901 in Blair, Nebraska, Blair Cemetery.
He married Henrietta Malcer Wallstrom in Omaha, Douglas Co., Nebraska, November 7, 1868. Henrietta was born in Holland February 12, 1841. Henrietta died December 6, 1902 in Blair, Washington Co. Nebraska, at 61 years of age. Her body was interred December 8, 1902 in Blair, Nebraska, Blair Cemetery.
Note:
His date of birth in two Dornacker family histories are not the same, one from the John Dornacker family has his date of birth 25 April 1842 Alsace Lorraine and that is also the date of birth on his tombstone Geb Den 25 Apr. 1842. On the 1880 census of Richland Pres., Washington Co. Nebraska Nicholas gives his age as 38 yrs old and he was born in France and that his parents were also born in France.
He has a wife, 3 daughters, 2 sons and a boarder named Ander Anderson age 27 yrs. from Sweden living in his household. For $1,125.00 "In hand" on May 22, 1877 he bought 80 acres in Wa shington Co. Nebraska it is listed in the Washington county District court Journal.
Nicholas received his USA citizenship but no date and it was listed that he was born in Germany but by that time the part of France that he was from had been taken over by Germany. On the 1885 Richland township, Washington Co. Nebraska census his age is 43 and his wife is 42 and their children are Annie, Lizzie, John, Hattie age 9, Henry age 6, Fredie age 4, and Louis age 3, and they have a boarder Hattie Thompson a teacher age 26, hired hand Adolph Jensen age 12 and Frederic Ross age 18.
In the 1900 census Washington Co. Nebraska he has a date of birth of Apr. 1842 and he is 58 yrs old and has been married 32 yrs. and now lists that he and his parents were all born in Germany and that he came to the USA in 1863. With him at home he has his wife and 4 sons and a servant Cristina Kabnk (?) 21 yrs old and born in Nebraska and her parents were born in Germany
MARRIAGE: Nicholas and Henrietta were issued a marriage license in Douglas Co. Nebraska on July 11, 1868.
Nicholas Dornacker and Henrietta Malcer Wallstrom had the following children:
+ 2 i. Anna2 Dornacker was born June 10, 1870.

+ 3 ii. Elizabeth Dornacker was born January 21, 1872.

+ 4 iii. John Dornacker was born February 20, 1873.

+ 5 iv. Hattie Dornacker was born July 15, 1875.

+ 6 v. Henry Dornacker was born November 17, 1876.

+ 7 vi. Frederick Dornacker was born January 24, 1881.

+ 8 vii. Louis Dornacker was born May 20, 1882.